Webbing, Solids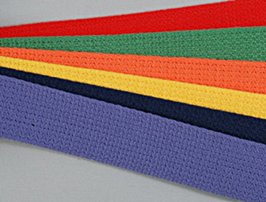 Solid color webbing in 50 yard rolls. This webbing is 1-1/4" wide and 2 to 3 mm thick. Suitable for military belts, clothing accessories, crafts. Many colors; scroll down or follow this link for our electronic swatch card of synthetics:

or this link for our electronic swatch card for cotton colors:

.
Baron Belts stocks webbing in several types of fiber:
acrylic canvas (see below)
cotton canvas (see below)
polyester canvas (see below)
polypro canvas (see here)
Cotton
has that familiar natural look and comfortable feel.
Acrylic
is a popular cotton and wool replacement, soft enough for knitted socks and sweaters, strong enough for tent and sail canvas. Acrylic fabric boasts superior color saturation and color fastness, and may be melted to prevent fraying.
Polyester
is similar to acrylic and is used in some of our heavier weight webbing.
Polypro canvas
, strong and economically priced, has a waxy hand and glossy surface.
Color swatches available; send us an email or give us a call.
Pre-cut packages: These webbing products are also available in 10 yard mini-rolls, in packets of 50 or 56 inch belt straps, and as fully assembled canvas belts.
Volume Discount. 5-10% off on orders of 10 or more rolls of a color.
roll of solid color black webbing for 1-1/4" belting and accessories, .094" thick synthetic cotton (acrylic) canvas, 1.24 oz/yd

roll of black 1-1/4" field weight webbing for military web belts, 100% cotton, thickness 100 mil, weight 4.9 lbs per roll

roll of solid color charcoal gray webbing for 1-1/4" military-style belts, 2.4 mm thick 100% acrylic

roll of solid color webbing for belts and accessories, 1-1/4" wide and 2.4 mm thick, medium gray synthetic cotton (acrylic) canvas

roll of bright white webbing for 1-1/4" military-style belts, synthetic cotton (spun polyester) canvas

roll of solid color webbing, 1-1/4" wide, 2.4 mm thick, new formulation for "natural cotton" color acrylic canvas

roll of khaki color 1-1/4" medium heavyweight webbing for military web belts and accessories, .094" thick synthetic cotton (acrylic) canvas

roll of khaki 1-1/4" field weight webbing for military belts, 100% cotton, thickness 100 mil, weight 5.1 lbs per roll

roll of solid color cardinal red webbing for 1-1/4" military-style belting, 2.4 mm thick 100% acrylic

roll of solid color webbing for belts and accessories, 1-1/4" wide and 2.4 mm thick, bright red synthetic cotton (acrylic) canvas

roll of solid color webbing for belts and accessories, 1-1/4" wide and 2.4 mm thick, extra bright yellow synthetic cotton (acrylic) canvas

roll of solid color webbing for belts and accessories, 1-1/4" wide and 2.4 mm thick, olive synthetic cotton (acrylic) canvas

roll of solid color webbing for 1-1/4" military-style belts, synthetic cotton (acrylic) canvas

roll of solid color webbing for 1-1/4" military-style belts, sturdy acrylic canvas

roll of solid color webbing for 1-1/4" military-style belts, acrylic canvas

roll of solid color webbing for 1-1/4" suitable for military belts and accessories, 2.3 mm thick synthetic cotton (acrylic) canvas

roll of dark navy blue 1-1/4" field weight cotton webbing for military web belts, 100% cotton, thickness: 100 mil, weight: 5.7 lbs per roll

roll of solid color hot pink webbing for 1-1/4" military-style belting, 2.4 mm 100% acrylic fiber, 1.24 oz/yd

---