Baron Belts is back!
New stock has arrived!
We provide sourcing for customers, direct ship (ocean or air freight) to customers' warehouses. Please email us for quote/availability.
Webbing, 1.5" & 2" Wide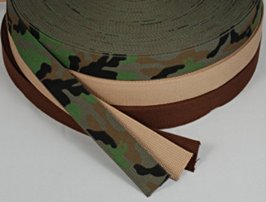 Wide webbing for canvas belts and accessories.
1-1/2" and 2" wide. Synthetic cotton acrylic or polyester canvas at the top of the page. Three flavors of natural cotton next: dress weight, field weight and premium stone washed. 2" in both cotton and acrylic at the bottom.
Our synthetic cotton features better color saturation than cotton, may be melt cut with hot knife to prevent fraying, wears longer than cotton, and in the current market offers a price advantage as well.
Follow this link for our electronic swatch card:

.
Page navigation:
roll of 1-1/2" extra-wide black webbing for belting and accessories, deep acrylic saturation, pleasing canvas touch

roll of extra-wide deep purple webbing for 1-1/2" military belting and accessories, acrylic synthetic cotton canvas

roll of wide cotton webbing for accessories and military belts, tighter weave dress weight cotton, 1-1/2" wide and 94 mil thick, medium heavyweight: about 1.6 oz per linear yard

roll of white webbing for 1-1/2" military-style belts, pure cotton, medium heavyweight: about 1.6 oz per linear yard

roll of natural color 100% cotton webbing for 1-1/2" military-style belts, tightly woven dress weight. Gray goods: can be dyed

roll of light brown desert khaki webbing for 1-1/2" military-style belts, field weight 100% cotton, 2.5 mm thick

roll of true navy webbing for 1-1/2" military-style belts, pure cotton, medium heavyweight, 2.6 mm thick

---