Baron Belts is restructuring!
ETA for new supply is around 1st week of February 2023.
You may submit your pre-order with an off-line payment method, we will send you a payment request when the stock is available.
We provide sourcing for customers, direct ship (ocean or air freight) to customers' warehouses. Please email us for quote/availability.
Webbing, Narrow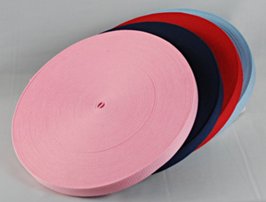 Narrow canvas webbing.
Use for 1 inch military belts, accessories and crafts. 3-layer 2.4 mm thick synthetic cotton (acrylic) webbing.
roll of narrow webbing for belts, accessories and crafts, inky black, 1" wide, 94 mil thick 3-layer synthetic cotton (acrylic) canvas

roll of narrow webbing for belts, accessories and crafts, navy blue, 1" wide, 94 mil thick 3-layer synthetic cotton (acrylic) canvas

---