Baron Belts is back!
New stock has arrived!
We provide sourcing for customers, direct ship (ocean or air freight) to customers' warehouses. Please email us for quote/availability.
Webbing, Stripes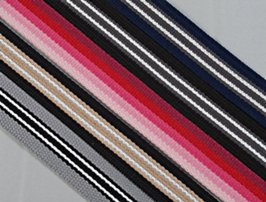 Striped and banded webbing for military belts, D-ring belts and accessories.
Conservative blues and grays, black and olive to eye-catching bumble bee, rainbow and rasta stripes.
This webbing is 1-1/4"" wide, 2.4 mm (94 mil) thick and made from acrylic synthetic cotton.
roll of navy blue and natural striped webbing for 1-1/4" straps and belts, 2.4 mm thick, rich acrylic color, feels like cotton but can be melted to prevent fraying

---