September 2023. We are currently shipping orders for in-stock items same or next day.
New stock of black and other colors expected to arrive on or about October 15. Stay tuned!
In addition to our inventory we offer sourcing to customers: direct ship (ocean or air freight) to customers' warehouses. Please email us for quote/availability.
Webbing, Stripes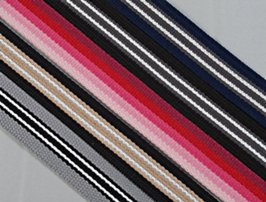 Striped and banded webbing for military belts, D-ring belts and accessories.
Conservative blues and grays, black and olive to eye-catching bumble bee, rainbow and rasta stripes.
This webbing is 1-1/4"" wide, 2.4 mm (94 mil) thick and made from acrylic synthetic cotton.
roll of navy blue and natural striped webbing for 1-1/4" straps and belts, 2.4 mm thick, rich acrylic color, feels like cotton but can be melted to prevent fraying

---