New orders will ship last week of June, 2023.
In addition to our inventory we offer sourcing to customers: direct ship (ocean or air freight) to customers' warehouses. Please email us for quote/availability.
Webbing Mini-Rolls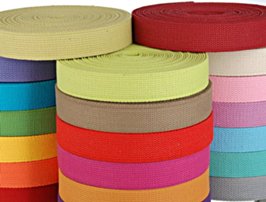 Mini-rolls of plain weave canvas webbing.
10 yards of medium heavy weight to heavy weight 1.25" and 1.5" webbing 2 to 2.4 mm thick. Cotton and synthetic fiber.
Dozens of colors, textures, prints.
Use for belts, purses, tote bags, leashes, crafts.
1" mini-rolls are available here.
---