Baron Belts is restructuring!
ETA for new supply is around 1st week of January 2023 with limited selection, we will post the available items after October 1 2022.
Please use our current product list to submit your pre-order with off-line payment method, we will email you with the availability/actual pricing/UPS ground shipping quote.
Webbing Mini-Rolls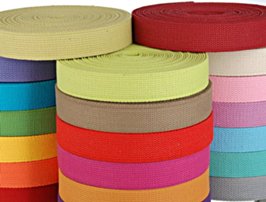 Mini-rolls of plain weave canvas webbing.
10 yards of medium heavy weight to heavy weight 1.25" and 1.5" webbing 2 to 2.4 mm thick. Cotton and synthetic fiber.
Dozens of colors, textures, prints.
Use for belts, purses, tote bags, leashes, crafts.
1" mini-rolls are available here.
mini-roll of white 1-1/4" webbing, spun polyester canvas prepared for dye sublimation

---