Baron Belts is back!
New stock has arrived!
We provide sourcing for customers, direct ship (ocean or air freight) to customers' warehouses. Please email us for quote/availability.
Canvas Belts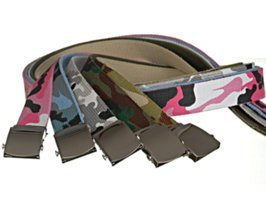 Canvas belts complete with buckles and tips. Order by the 6-pack or by the piece. Page through for our offerings. Contact us if you don't see what you're looking for--there are a lot of possible permutations. On display are
100% cotton military belts with a variety of buckles,
acrylic canvas military belts in 3 widths and many buckles,
nylon golfing belts with break-action nickel polish buckles,
printed, camouflage, striped military belts with choices of buckles,
elastic military belts, wide polypropylene and medium polyester.
Volume Discounts. Automatic discounts for orders of 10 packs (5 dozen) or as marked.
---