Baron Belts is back!
New stock has arrived!
We provide sourcing for customers, direct ship (ocean or air freight) to customers' warehouses. Please email us for quote/availability.
Premium Stretch Belts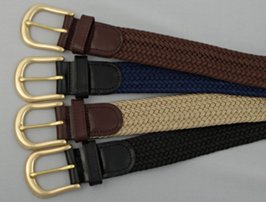 Premium stretch belts. Premium braided stretch belts with top-grain leather tabbing; genuine leather or solid brass buckles. Big & Tall sizes at listed separately.
Looking for elastic web belts with military buckles? Go here.
Volume Discount: 5-10% discount on volume orders: 12 or more of a single style/color/size, regular sizes, 10 or more plus sizes.
Minimum Order: 3 belts per color.
premium black braided stretch belt, black split leather tabbing and leather covered buckle, 1-1/4" wide

Big & Tall premium black braided stretch belt, black split leather tabbing and leather covered buckle, 1-1/4" wide

navy blue braided stretch belt, matching tabbing and leather covered buckle, 1-1/4" wide, extra-long overhang

Big & Tall navy blue braided stretch belt, matching tabbing and leather covered buckle, 1-1/4" wide, extra-long overhang

dark gray braided stretch belt, matching split hide tabbing and leather covered buckle, 1-1/4" wide

---