September 2023. We are currently shipping orders for in-stock items same or next day.
New stock of black and other colors expected to arrive on or about October 15. Stay tuned!
In addition to our inventory we offer sourcing to customers: direct ship (ocean or air freight) to customers' warehouses. Please email us for quote/availability.
Premium Stretch Belts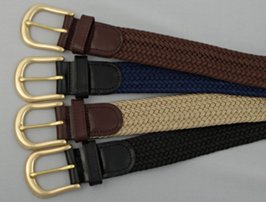 Premium stretch belts. Premium braided stretch belts with top-grain leather tabbing; genuine leather or solid brass buckles. Big & Tall sizes at listed separately.
Looking for elastic web belts with military buckles? Go here.
Volume Discount: 5-10% discount on volume orders: 12 or more of a single style/color/size, regular sizes, 10 or more plus sizes.
Minimum Order: 3 belts per color.
premium black braided stretch belt, black split leather tabbing and leather covered buckle, 1-1/4" wide

Big & Tall premium black braided stretch belt, black split leather tabbing and leather covered buckle, 1-1/4" wide

navy blue braided stretch belt, matching tabbing and leather covered buckle, 1-1/4" wide, extra-long overhang

Big & Tall navy blue braided stretch belt, matching tabbing and leather covered buckle, 1-1/4" wide, extra-long overhang

dark gray braided stretch belt, matching split hide tabbing and leather covered buckle, 1-1/4" wide

---