Baron Belts is back!
New stock has arrived!
We provide sourcing for customers, direct ship (ocean or air freight) to customers' warehouses. Please email us for quote/availability.
Military Buckles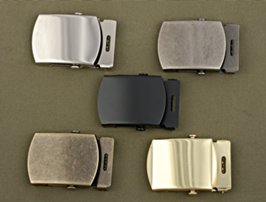 Plain military style belt buckles and tips for 1", 1-1/4" and 1-1/2" wide webbing straps.
Three buckle types: slip-through with friction pin, flip-top with teeth, open face frame.
Steel construction with a variety of finishes: nickel polish, brass plate, flat black, antique silver and brass, glitter gold and silver.
Volume discount: 5% off on orders of 30 dozen or more buckles of a style.
Note: These buckles are sold by the dozen. Matching tips are included.
package of 12 plain nickel polish steel military-style buckles and tips for 1-1/4" web belts

package of 12 plain low gloss black steel military-style buckles and tips for 1-1/4" web belts

package of 12 plain brass plate steel military-style buckles and tips for 1-1/4" web belts

package of 12 plain antique silver steel military-style buckles and tips for 1-1/4" web belts

package of 12 plain-face flip-top low gloss black military-style buckles and tips for 1-1/4" web belts

package of 12 wide nickel polish steel military buckles and tips for 1-1/2" web belts

package of 12 wide black enameled steel flip-top buckles and tips for 1-1/2" web belts

---