September 2023. We are currently shipping orders for in-stock items same or next day.
New stock of black and other colors expected to arrive on or about October 15. Stay tuned!
In addition to our inventory we offer sourcing to customers: direct ship (ocean or air freight) to customers' warehouses. Please email us for quote/availability.
Webbing, 1" Polypro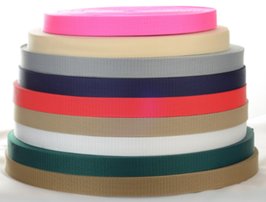 Narrow polypro webbing.
Use for bags, accessories and crafts. 1.3 mm thick synthetic polypropylene webbing.
Put up lengths, 100 and 20 yards.
---