Webbing Mini-Rolls - Page 4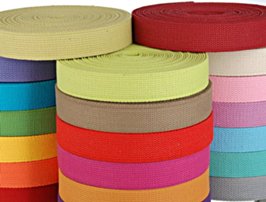 Mini-rolls of plain weave canvas webbing.
10 yards of medium heavy weight to heavy weight 1.25" and 1.5" webbing 2 to 2.4 mm thick. Cotton and synthetic fiber.
Dozens of colors, textures, prints.
Use for belts, purses, tote bags, leashes, crafts.
1" mini-rolls are available here.
mini-roll of dark khaki 1-1/2" extra-wide webbing, synthetic cotton (acrylic) canvas, 2.4 mm thick
mini-roll of daffodil yellow 1-1/2" extra-wide webbing, synthetic cotton (acrylic) canvas, 2.4 mm thick

mini-roll of neon green 1-1/2" extra-wide webbing, synthetic cotton (acrylic) canvas, 94 mil thick

mini-roll of bright yellow 1-1/2" extra-wide webbing, synthetic cotton (acrylic) canvas, 2.4 mm thick

mini-roll of olive green 1-1/2" extra-wide webbing, synthetic cotton (acrylic) canvas, 94 mil thick

mini-roll of thin black 1-1/2" extra-wide webbing, polypro canvas, .051" thick, note 20 yard put up

Page 4
---