Canvas Belts - Page 5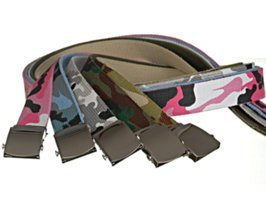 Canvas belts complete with buckles and tips. Order by the 6-pack or by the piece. Page through for our offerings. Contact us if you don't see what you're looking for--there are a lot of possible permutations. On display are
100% cotton military belts with a variety of buckles,
acrylic canvas military belts in 3 widths and many buckles,
nylon golfing belts with break-action nickel polish buckles,
printed, camouflage, striped military belts with choices of buckles.
Volume Discounts. Automatic discounts for orders of 10 packs (5 dozen) or as marked.
1-1/2" wide black elastic polypro canvas military web belt with black fliptop buckle and matching tip, .099" thick
Price Schedule
6-12
$1.95 ea
12+
$1.75 ea

extra long acrylic canvas military web belt complete with nickel matte buckle and matching tip, 1-1/4" wide, medium heavy weight .094" thick, choice of belt color
Price Schedule
6-59
$1.54 ea
60-119
$1.49 ea
120+
$1.46 ea

1"-wide 72" long synthetic cotton military web belt complete with nickel polish buckle and tip, black
Price Schedule
6-59
$1.40 ea
60-119
$1.36 ea
120+
$1.34 ea
Page 5
---