Webbing, 1.5" & 2" Wide - Page 2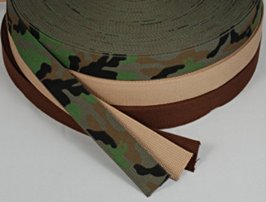 Wide webbing for canvas belts and accessories.
1-1/2" and 2" wide. Three flavors of natural cotton at the top of the page: dress weight, field weight and premium stone washed. Synthetic cotton acrylic canvas below; 2" cotton at the bottom.
Our synthetic cotton features better color saturation than cotton, may be melt cut with hot knife to prevent fraying, and in the current market offers a price advantage as well.
Follow this link for our electronic swatch card:

.
roll of extra-wide bright medium pink webbing for 1-1/2" military belting, acrylic canvas

roll of extra-wide deep purple webbing for 1-1/2" military belting and accessories, acrylic synthetic cotton canvas

roll of extra-wide bright coral color webbing for 1-1/2" military belting and accessories, acrylic synthetic cotton canvas

Page 2
---